Features
● Sensitive—detect less than a nanogram of protein per spot
● Convenient—simple 30 minute protocol for blots or 3 hour protocol for gels
● Flexible—stain gels or membranes
● Reversible—destain for downstream Western blotting or mass spectrometry
● No speckling—clean background and no speckling for better data
● Safe—biodegradable and contains no heavy metals for increased safety and simple disposal
● Compatible—image stained blots or gels with laser or CCD imaging systems. Multiplex stained membranes with fluorescent Western blots for simultaneous detection of total protein and proteins of interest.
Total protein normalization
Use AzureRed as a fluorescent total protein normalization stain. The 30 minute protocol produces superior linearity, sensitivity and reproducibility and is compatible with multiplex fluorescent Western blotting.
Stain 1D and 2D gels
AzureRed stains 1D and 2D gels in less than 3 hours, with high sensitivity, low background, and no speckling.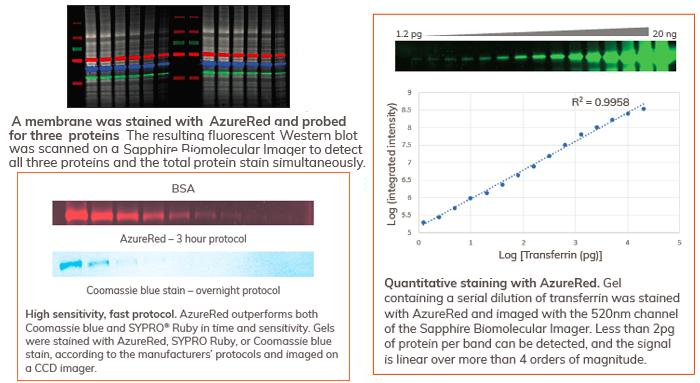 Details:https://www.azurebiosystems.com/product/azurered-fluorescent-protein-stain/
| | | | |
| --- | --- | --- | --- |
| Part Number | Name | Description | Size |
| AC2124 | AzureRed AC2124 Fluorescent Protein Stain | Fluorescent total protein stain for 1D and 2D gels – sufficient for 20 minigels | 5ml |