Azure c400
Visible Fluorescent Western Blot Imaging System.
Quantify three proteins on a single blot without stripping and re-probing.
The Azure c400 imaging system offers three-channel RGB excitation for Cy5/Cy3/CY2 fluorescent Western blot applications.
Image single protein assays quickly on the same system with sensitive chemiluminescent detection. Forget the hassles of film and darkroom chemicals – just place your sample in the system and capture an image with the click of a button.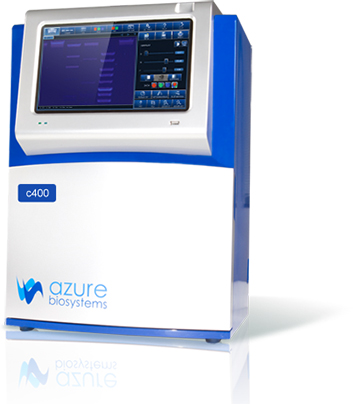 Product Features
● Three Channel RGB Excitation – For Cy5/Cy3/Cy2 applications –allows quantitation of two proteins (or modifications) and a loading control without stripping and re-probing
● Fast chemiluminescent detection without film
● Capture all your gel and blot images on a single instrument. DNA, protein, colorimetric or photometric
● Upgradeable to two channel NIR fluorescent detection – the Azure c400 can be field upgraded to the c600 to image samples in the NIR
Applications