Invitation | Cycloudy will meet with you for the 7th national advanced training course on new technology of pathogen nucleic acid detection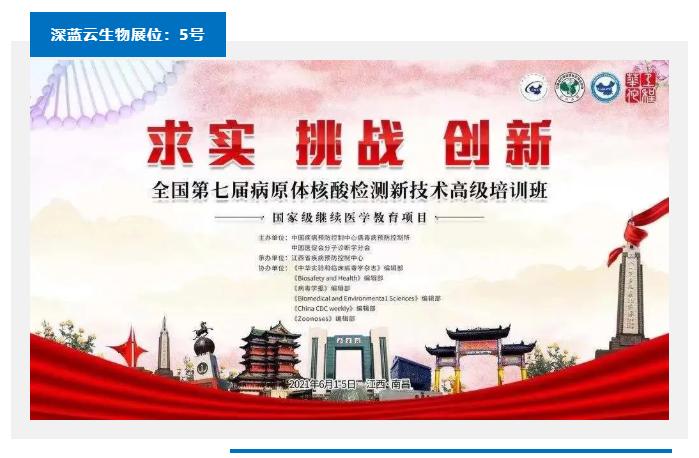 During June 1-5, 2021, The 7th National Advanced Training Course for Pathogenic Nucleic Acid Detection will be held in Nanchang, Jiangxi Province (Jiangxi Provincial Party Committee Binjiang Hotel) using a combination of online and offline formats. The training was cosponsored by the molecular diagnostics branch of CPAM and National Institute of Viral Disease Control and Prevention, and undertaken by Jiangxi Provincial Center for Disease Control and prevention. It is cosponsored by the editorial department of Chinese Journal of Experimental and Clinical Virology, Biosafety and Health, Chinese Journal of Virology, Biomedical and Environmental Sciences, China CDC weekly and Zoonoses. Beijing Cycloud Biotechnology Co., Ltd. will bring relevant products to the exhibition. We will wait for your visit at booth 5.
The main purpose of this training course is to track the latest progress of molecular detection technology in the application of new coronavirus and other pathogens, promote mature nucleic acid detection technology, promote academic exchanges of relevant technical personnel, improve the relevant knowledge and technical level of professionals, and cultivate high-quality talents of medium detection specialty.
Digital PCR is a new generation of absolute quantitative technology of nucleic acid. Compared with qPCR, digital PCR can directly count the number of differential regions containing DNA molecules, and the initial sample can be absolutely quantified by Poisson distribution algorithm. It has the advantages of high sensitivity, high accuracy and high tolerance to inhibitors. In the detection of pathogens in infectious diseases and the prevention and monitoring of infectious diseases, digital PCR technology can directly quantify the nucleic acid copy number of pathogenic microorganisms, so as to realize the sensitive, accurate, rapid and specific identification and typing, and realize the rapid detection of pathogenic microorganisms that are difficult to cultivate and cannot be cultivated.
naica®Digital PCR system, Cycloudbio provides fully automatic closed three color and six color fluorescence channels, high sensitivity digital PCR detection solution for pathogens, without standard products and standard curves, just one-step loading, dividing the PCR reaction system into ~ 30000 nano upgrade monolayer tiled micro drop array, realizing single molecule amplification of nucleic acid, and obtaining the copy number of nucleic acid through Poisson distribution, It is a real absolute quantitative detection method with high sensitivity, high accuracy, high resolution, high tolerance and other technical characteristics. While maintaining high specificity and rapid detection, the system is fully automated and closed to ensure the safety of the environment and samples.
At the same time, Cycloudbio provides pathogen digital PCR detection reagent, which can quickly, specifically and highly sensitively distinguish which pathogen is infected. It is helpful for early identification of pathogens, reduces the probability of misdiagnosis and missed diagnosis, provides automatic quality control and visual backtracking of original results, and eliminates false-positive results. Due to different treatment schemes for different pathogens, Cycloudbio provides automatic quality control and visual backtracking of original results, It also contributes to the clinical treatment of patients and the prevention of local epidemic transmission.
Workflow
Tips: Conference Registration
his training course adopts a combination of offline and online teaching. Participants such as delegates and guests can scan the conference QR code through WeChat or copy the link (http://m.jxruishi.cn/col.jsp?id=123) to enter the online registration page and fill in the registration information item by item as required.
The registration deadline for offline participants is May 25, 2021, so please make reasonable arrangements to complete your registration.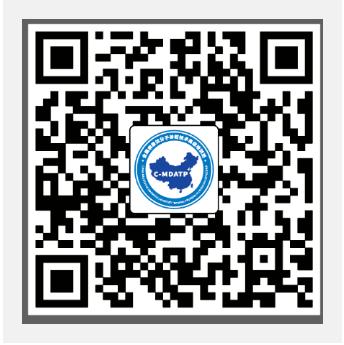 Cycloudbio's booth product display
naica®Next Generation Digital PCR
naica®Digital PCR system uses sapphire chip as the only consumable to form a 2D array of 25,000-30,000 droplets for PCR amplification experiments in a single-layer tile method. After the completion of the reaction, three channel imaging is performed to obtain the accurate absolute number of nucleic acids. Results can be obtained quickly within 2.5 hours.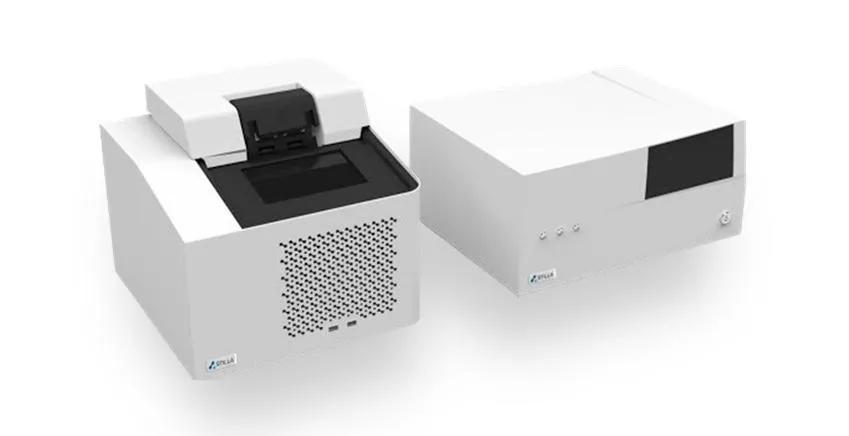 ▲ naica®Digital PCR system
Echo Hybrid microscope
The Echo Hybrid microscope is both an inverted and an inverted microscope, convenient and compact, multifunctional, can be very convenient by rotating to achieve the switch between inverted configuration; no traditional eyepiece design, with bright field, phase contrast, fluorescence, polarized light and other observation methods, compatible with live cell observation, pathology section, immunohistochemistry, immunofluorescence, fluorescence in situ hybridization, etc.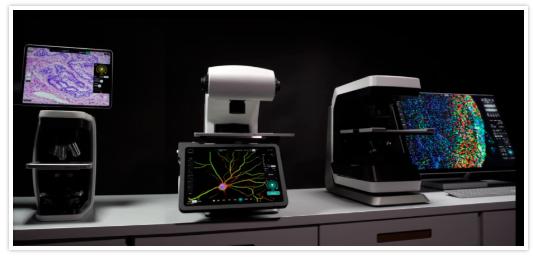 ▲ Echo Hybrid microscope
Azure Cielo™ real-time fluorescence quantitative PCR system
Azure Cielo™ real-time fluorescence quantitative PCR system from Azure Biosystems, Inc. is equipped with a high-quality temperature module, a detection system with fiber optics and CMOS, and high-energy LED excitation to provide highly sensitive and reliable data.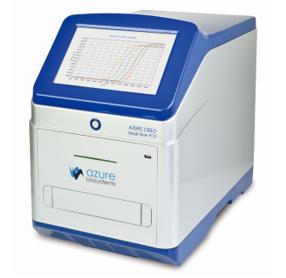 ▲ Azure Cielo™ real-time fluorescence quantitative PCR system