The first highly sensitive digital PCR method for detection of mixed coronavirus: 10 fold increase in detection capability
"We assessed the sensitivity of group testing combined with Naica crystal digital PCR for SARS-CoV-2 detection-the COVID-19 Multiplex Digital PCR Detection Kit (Stilla Technologies, France/Apexbio, China). This assay demonstrated the sensitivity of group testing is higher than RT-PCR, group testing digital PCR method sensitivity: 3 copies/PCR, RT-PCR for WHO: 5 copies/ PCR. The group testing can reduce the amount of detection reagents by about 80%, the detection cost can be reduced by 10 times, and the detection capacity can be increased by 10 times."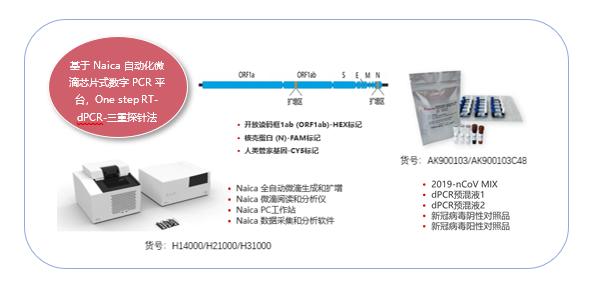 With the increase of global 2019-nCoV cases, the detection capacity has shown insufficient, and it is imperative to improve the SARS-CoV-2 detection capacity. On June 8th, the National Health Commission (China)issued the "Opinions on Accelerating the Implementation of New Coronavirus Nucleic Acid Testing", which stated in Article 4(1): "When testing a large-scale population, a 5 to 10 nucleic acid samples can be used for group testing, which improves the testing efficiency and reduces the testing cost." The method of preliminary screening of mixed specimens can improve detection efficiency and reduce detection costs."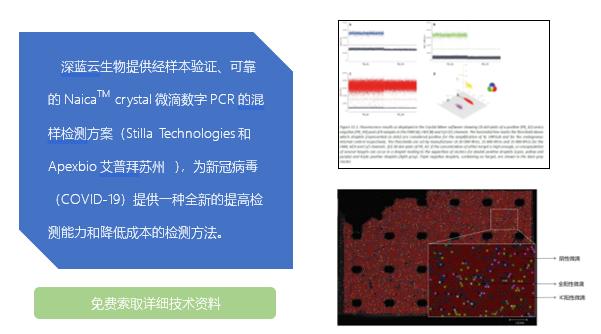 In the verification process, A total of 448 samples are verified. They compare empirically the sensitivity of individual identification through RT-PCR with group testing by RT-dPCR for three groups sizes of 8, 16 and 32 samples. Finally they find that, group testing by RT-dPCR has a better sensitivity than the reference individual RT-PCR testing for groups of 8 and 16,and similar for groups of 32.
Link to the full text of the verification report: https://arxiv.org/abs/2006.02908, It is carried out by the AP-HP, Virology Department of Bichat Hospital, and the CREST, Ecole Polytechnique, cooperated with Stilla Technologies. The SARS-CoV2 group test and single sample reference test were systematically compared, and it is the largest SARS-CoV-2 group test comparative research report to date.

NaicaTM crystal digital PCR
NaicaTM crystal is a highly sensitive digital PCR solution, as the next generation gene detection and nucleic acid quantification technology. The Naica™ crystal digital PCR system has a unique three-channel detection capability that can detect multiple nucleic acids in the one reaction. The operation is simple and the reaction is fast, the result can be obtained within 2.5 hours. It is a brand-new innovative technology that is completely different from similar products on the market. The Naica™ crystal digital PCR system supports a wide range of genetic testing and molecular biology analysis, including liquid biopsy for cancer diagnosis, viral load testing, prenatal screening and genetically modified component testing, etc. It is the first choice for companion diagnosis in precision treatment technology.
About Apexbio (Suzhou) Co., Ltd.
Apexbio (Suzhou) Co., Ltd. is an integrated solution provider of clinical testing services, introducing advanced hardware production technology and developing technical products that meet clinical applications. Committed to the R&D, production, sales and service of precision medical diagnostic products (diagnostic reagents, instruments). Based on the advanced NAICA digital PCR platform and self-patented detection technology, the company has continuously developed dozens of clinical detection products with simple operation, rapid results and simple analysis. The company has a number of core technologies, has obtained more than ten patents, and a number of software copyrights.
About Stilla Technologies-China Technology Demonstration and Service Center
Beijing Cycloud Biotechnology Co., Ltd. is committed to providing customers with new life science research instruments and analytical products as well as optimized overall application solutions. CycloudBio is equipped with professional technical support and application support, relying on internationally leading life science products and solutions, focusing on providing users with analytical products and comprehensive pre-sales consultation and after-sales services.
For more information, please follow the official website of "Cycloud Biotechnology" and WeChat public account.
Gene π: Digital PCR Technology Resource Center, please click: :http://www.cycloudbio.com/p/72.html
Request detailed technical information for free::http://cycloudbio.mikecrm.com/6iLygi0