Cycloud Biotechnology's Latest Three-channel Ultra-sensitivity and Fully-sealed Digital PCR for 2019-nCoV Detection

Cycloud Biotechnology fully launched the Naica crystal digital PCR system with three channels of the novel coronavirus detection kit developed by Naica users. It has high specificity and sensitivity, and fully sealed processes ensure safety.
Digital PCR technology divides the PCR reaction system solution into more than 10,000-level reaction systems to achieve single molecule amplification of nucleic acids. The copy number of nucleic acids is obtained through Poisson distribution statistics. It is a true absolute quantitative detection method with high sensitivity, high accuracy, high resolution, high tolerance and other technical features.
For the 2019-nCov users of the Naica crystal digital PCR platform have developed detection kit through using the ORF1ab of the 2019-nCoV and the specific conserved sequence encoding the capsid protein N gene as target regions. In addition, it contains a CY5 fluorescence as the internal control.
By one-step reverse transcription-digital PCR combined with the TaqMan probe method, the RNA copy number concentration can be directly obtained by adding an RNA template to the amplification reagent. Realize highly specific and sensitive digital PCR absolute quantitative detection.

The whole scheme of three channel detection of the novel coronavirus based on Naica crystal digital PCR system has excellent performance in the application of nucleic acid detection in biological samples.
◆ High sensitivity and tolerance-significantly :Accurate detection for complex samples
◆ Fast operation and closed process-highly secure
◆ Strict quality control and fast process-objective and reliable results
Novel coronavirusdigital PCR test kit instructions (* For research use only. )
The novel coronavirus three-channel Digital PCR Detection Kit can perform triple detection for the sample in one tube, including N genes(FAM); ORF1ab(VIC); and internal standard genes (CY5) to achieve quality control of sample.
Kit components:
1)Novel coronavirus primers and probes mixture (N gene FAM tag, ORF1ab VIC tag, internal standard gene CY5 tag): 1 tube;
2)Novel coronavirus positive control: 1 tube.
3)2x Novel coronavirus digital PCR amplification reagent: 1 tube.
4)10X fluorescent dye: 1 tube
Note: The following reagents need to be prepared by yourself.
① nucleic acid extraction kit ;
② DEPC H2O;
③ Sapphire Chips;
The kit information comes from the developer of the Novel coronavirus Digital PCR Detection Kit using the Naica Digital PCR Platform.
Cycloud Biotechnology will provide 7X24-hour online support services.
Catalogue number and ordering information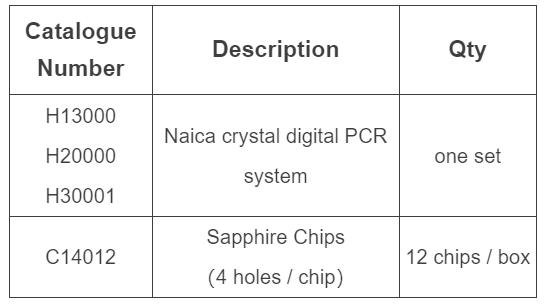 The Naica crystal digital PCR system
The Naica crystal digital PCR system from France's Stilla Technologies is the latest generation of digital PCR platform. It is a digital PCR platform that automatically completes three channel detection, closed-tube detection, and visual quality control. The platform requires only one step of manual operation and only one consumable—Sapphire chip. The PCR system is dispersed by a single-layer droplet array. The target DNA sequence is cycled at the same temperature in 25,000-30000 uniform droplets. Under the conditions of independent and stable PCR amplification, the repeatability and reproducibility of the results are improved, and the work efficiency is significantly improved.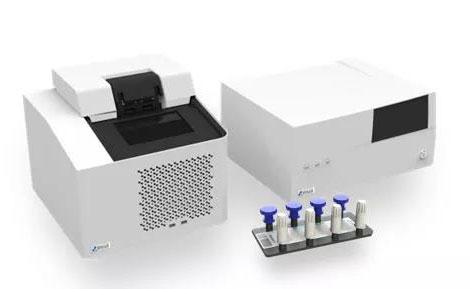 Stilla Technologies, founded in 2013, is located in the Villejuif Biological Park in Paris, France. It is committed to developing a new generation of nucleic acid quantitative and detection tools. Participate in Horizon plan 2012-2019 of the European Union, and jointly undertake liquid biopsy project in Lima plan with Philips, as an important direction to improve health testing in Europe. It is an innovative life science development company with R & D and application testing and development bases in Boston and Europe. In 2018, it won the investment of Illumina ventures, and selected as new highlight product of illumina Ventures in November 2019, and it also won the NPA award of the global SLAs automation industry conference in 2018. In 2019, it obtained the capital increase of Tus-holding. Tus-holdings is a technology investment holding group focusing on the field of science and technology services established by Tsinghua University. It is a development, construction and operation management unit of Tsinghua Science and technology park. It has more than 800 listed and non listed companies with a total assets of nearly 200 billion yuan.