How does the the Keypro eliminate the virus ?
The 2019 new coronavirus "2019-nCoV", was discovered because of Wuhan Viral Pneumonia cases in 2019, and was named by the World Health Organization on January 12, 2020.
Alcohol is used for viral respiratory infectious diseases including 2019-nCoV, influenza, SARS, etc. because alcohol can quickly kill them by destroying their biological envelope. So let's see how the Keypro eliminate the virus?

◐ UV-C high-efficiency sterilization: bacteria and viruses is eliminated within a few seconds.The sterilization ability is 600-3000 times greater than chlorine.
◐ Ultraviolet sterilization broad-spectrum: Ultraviolet technology has the highest sterilization among all current disinfection technologies. It can kill almost all bacteria and viruses.
◐ Principle of UV sterilization: UV destroys the molecular structure of DNA or RNA in cells, causing DNA strand breaks, cross-linking of nucleic acids and proteins.
Potential biological contaminants are pervasive in the laboratory. Miniscule amounts of common enzymes such as RNase can make an experimental series inaccurate. Standard techniques for decontaminating laboratory equipment can take hours. KeyPro™ KP100 eliminates contamination without residue or rinsing, saving up to 90% of the time and cost of chemical decontamination. Simply load compatible reagents and solvents and run your decontamination cycle just prior to adding sample.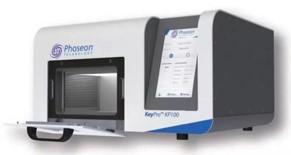 Product Features:
▷ 5min completely kills viruses, bacteria etc
▷ Touch screen operation, easy to use.
▷ Fast and high throughput.
▷ Stable and consistent results.
▷ Reduce the cost of laboratory consumables.
▷ Integrated workflow
Application:
It is mainly used for sterilizing bacteria, viruses and RNase on microplates, pipettes, water, metals, ceramics, plastics, glass and others.

The staff of Cloud Biotechnology and the first-line scientific researchers fight the new 2019 coronavirus together, provide timely and effective molecular detection solutions, and provide 7 × 24 hours of technical support!